---
School Culture
Welcome to Channel View School For Research, we help our youth achieve success by providing an exceptional, engaging, real-world, and diverse education so that they are college and career ready
Our Philosophy
Channel View's educational focus is teaching a common core of concepts, skills and knowledge in an academically rigorous curriculum.  Instruction fosters independent inquiry and critical thinking through collaborative learning and teaching.
Athletics
We provide a comprehensive range of Athletics. Any 9-12 grade student interested in trying out will need a medical and parental form submitted.

PSAL_Parental_Consent_Form
PSAL_Medical_Form
http://psal.org to check our schedule.
Our Mission
---
All Channel View School for Research students graduates as well-educated, involved citizens who have a love for learning that enables them to embrace their future with confidence, community, acceptance, and competence, using the lifelong strategies they acquire in our school.
NYC Outward Bound
---
Channel View School for Research is a 6-12 NYC Outward Bound school located in the "B" wing of the Beach Channel Educational Campus. As with all NYC Outward Bound Schools, Channel View is based on the EL Education (formerly Expeditionary Learning) school model.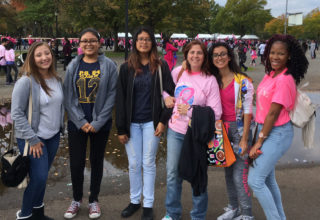 Our character
---
Character is one of the pillars of our foundation at Channel View. Students and staff collaboratively chose "Service", "Trust", "Accountability", and "Respect" (STAR) as the traits that all members of our school community will emulate. Additionally, crew students chose our "15 Words To Live By."
Skedula & Pupil-path
---
Skedula / Pupil-Path is no longer used as a school management system in NYC Department of education. More information will be posted soon regarding the new DOE platform.
---
Naviance is an American "college and career readiness software provider" that partners with high schools and other K–12 institutions to provide students with college planning and career assessment tools.
---
School districts and schools purchase Naviance to help students explore their interests and strengths and develop a course of study that matches long-term goals with an actionable plan.
---
The Naviance Support Services team is comprised of subject matter experts who are available to assist schools and districts that are implementing Naviance solutions. We pride ourselves that 96% of calls are answered by a live support specialist. Our consultants and trainers are experts in helping schools and districts plan, execute, and foster their Naviance implementation to meet their unique needs and circumstances.
 Students Transcript
Former students of Beach Channel HS can click this link to obtain a transcript request form.
Channel View School For Research students can click this link to obtain a transcript request form.
Fill out the form, include a copy of your photo ID, and send a money order made out to "Channel View School For Research" for the number of transcripts requested (pricing is on the form). Transcripts are processed on Wednesdays every week.
Mail to:
Channel View School for Research
100-00 Beach Channel Drive
Rockaway Park NY 11694
Attn: Beach Channel Records
Teachers login HW Sheets:
---
Teachers can click the following link to log-in and upload/modify Homework sheets. for login information please contact your network administrator.
HW Sheets Login
Computer Labs Reservation:
---
Requests for specific dates during the semester are processed on a first come first serve basis for a period no more than a month. These requests should be submitted through the online lab reservation system.
Requests for the entire semester are processed by the teacher of the subject area. These requests should be submitted online as well. Its the teacher's responsibility to reserve the lab during his/her teaching periods for the entire semester.
The staff member is responsible for enforcing the lab rules during the time the lab is scheduled and report any damage imeditely to the adminstration. If a student or staff member is violating lab rules, future lab reservations may be canceled indefinetely.
Staff member who have reserved a lab are responsible for canceling the lab reservation online if the class has been cancelled. This will allow others the opportunity to use the labs. Failure to cancel/remove an unused reservation for 3 times will result in indefinete suspension for the staff member.
---